Nordic Naturals is pleased to announce the addition of Vitamin D3 Vegan to its product line.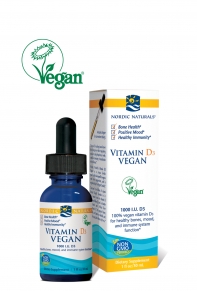 The liquid formulation is naturally sourced from lichen and was developed for vegans, strict vegetarians, and consumers who prefer a non-lanolin form of vitamin D3. The plant-based formula is in the natural form of vitamin D, or cholecalciferol, which is better absorbed and utilized by the body. The product is registered by the Vegan Society and carries the organization's logo on the packaging.
Vitamin D3 Vegan is available in a 1-ounce bottle and comes with a convenient dropper. Each serving provides 1,000 I.U. of vitamin D3. The product is free of GMOs, lanolin, hexane, gluten, milk derivatives, and artificial colors and flavors.
Vitamin D3 supports immune system function, helps regulate mood and sleep rhythms, supports the regulation of the body's levels of calcium and phosphorus, and increases mineralization in the bones.
According to Dr. Keri Marshall, Nordic Naturals Chief Medical Officer, "Based on findings from the National Health and Nutrition Examination Survey in 2011, researchers determined that 70 percent of Americans were low in vitamin D. Nordic Naturals now offers two non fish oil products to help address this deficiency: Vitamin D3 soft gels and Vitamin D3 Vegan liquid. We are pleased to announce that this lichen-based source of Vitamin D3 is one of the first completely vegan sources of natural vitamin D3 on the market."
Vitamin D3 Vegan joins the growing line of Nordic Naturals vegetarian products, all of which are processed with minimal environmental impact. Independent labs also test every batch for heavy metals, and pesticides to guarantee purity, freshness, and quality.
Based in Watsonville, CA, Nordic Naturals is committed to delivering the world's safest, most effective omega oils to help provide the essentials of an extraordinary life. Distributing to more than 35 countries, Nordic Naturals offers more than 150 products in a variety of flavors and formulations, all in line with leading standards for safety, efficacy, and sustainability. By providing omega oil supplements for adults, kids, athletes, and pets, Nordic Naturals helps everyone do more of what they love. Further information is available at NordicNaturals.com.
Nordic Naturals is on Facebook at NordicNaturals and people can follow the company on Twitter at @NordicNaturals.
Read more from Nordic Naturals.